National Tourism Data and Hotel Investment Analysis
Azerbaijan
What
SW Associates was commissioned by the Ministry of Tourism to conduct a comprehensive analysis and formulate detailed plans for the following priority areas:
The hotel quality and classification system.

The domestic tourism statistics system.
Activities & Services:
Hotel Classification System: 
Comprehensive analysis of the goals, organizational resources, performance and relevance of the hotel classification system in Azerbaijan. 

Comparative analysis of the hotel classification system with other systems in Abu Dhabi, New Zealand, Germany and the UK. 

User-generated reviews of accommodations were discussed with the Ministry and industry stakeholders.   

Conducted a brainstorming session with hotel industry stakeholders to consider the strengths and weaknesses of the existing system and importance of the growing trend of user-generated reviews. 

Provided recommendations for an improved system, keeping in mind adaptations for Azerbaijan.   

Provided recommendations for improved implementation of the system. 

Developed an Action Plan for reclassification of accommodations and better leveraging of user-generated reviews.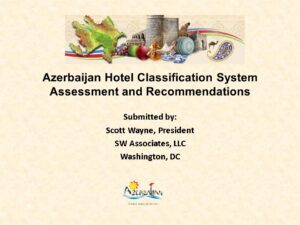 Assessed domestic tourism statistics
Conducted a strengths and weaknesses analysis of the domestic tourism statistics collection and analysis process. 

Reviewed the human resource and technological capacity for addressing the gaps in collection, analysis and application of statistics results.  

Provided recommendations and an Action Plan for improved collection and use of domestic tourism statistics.