Armenia: Southern Corridor Tourism Strategy
Armenia
Strategy for developing the Southern Tourism Corridor of Armenia
What
At the request of the Government of Armenia, the World Bank solicited analytical support to examine the feasibility of adopting a regional development approach to tourism in the country.
To conduct this analysis, the World Bank enlisted Scott Wayne to examine the constraints and opportunities regarding the country's tourism development. He conducted multiple field visits and led multiple discussions with government officials and private sector partners, with the objective of formulating a southern corridor circuit in Armenia.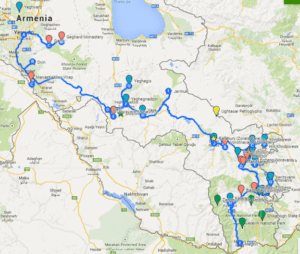 Activities & Services:
Extensive field visits to all key destinations along the Southern Corridor
Analyzed six value chain challenges facing the proposed corridor:  
1) Product offers and marketing 
2) Public Infrastructure  
3) Private Investment 
4) Human resources and Public-Private Dialogue 
5) Policy/investment climate 
6) Benefit sharing  
Results
Scott's reporting assisted the World Bank with proposing a US$55 million loan package to facilitate the implementation of the Local Economy and Infrastructure Development Project for Armenia, which included a priority list of interventions for stakeholders.