Obama Administration Tourism Strategy is Working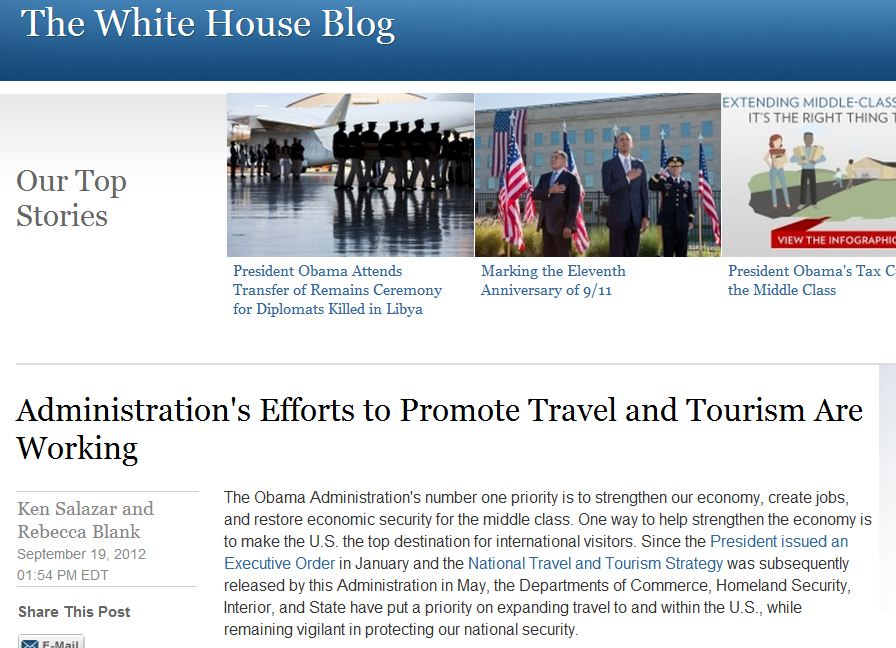 Obama Administration Tourism Strategy is Working
The US Department of Commerce announced today that the President's January Executive Order and May release of the country's National Travel and Tourism Strategy, international tourism and spending have increased substantially. In a White House press release issued today, the Administration said the following:
"The Obama Administration's number one priority is to strengthen our economy, create jobs, and restore economic security for the middle class. One way to help strengthen the economy is to make the U.S. the top destination for international visitors. Since the President issued an Executive Order in January and the National Travel and Tourism Strategy was subsequently released by this Administration in May, the Departments of Commerce, Homeland Security, Interior, and State have put a priority on expanding travel to and within the U.S., while remaining vigilant in protecting our national security.
Today, we learned that these efforts are working. The U.S. Department of Commerce announced that international visitors spent an estimated $13.7 billion on travel to, and tourism-related activities within, the United States during the month of July–$350 million (3 percent) more than was spent in July 2011. Travel and tourism-related exports have increased, on average, more than $1.1 billion a month during the first seven months of 2012.
Also today, the Bureau of Economic Analysis (BEA) released estimates for the second quarter 2012 from their Travel and Tourism Satellite Accounts. These accounts present a detailed picture of travel and tourism activity and its role in the U.S. economy, including estimates of spending by travelers in six categories of goods and service as well as estimates of the employment generated by travel and tourism and related industries. Today's data reveal that real spending on travel and tourism increased at an annual rate of 2.1 percent in the second quarter of 2012 after increasing 4.9 percent (revised) in the first quarter of 2012, supporting 7.6 million jobs."
The bottom line is noteworthy for tourism administrations and organizations around the world: tourism can make a substantial positive impact on economies, especially export earnings, jobs and incomes.
And, as the US Travel and Tourism Satellite Account shows, this positive economic impact spreads all across an economy. The Satellite Account enables the US Government to more accurately measure the direct and indirect economic impacts. The Satellite Account numbers show faster growth in the tourism economy than the economy as a whole. Click on the links for more information direct from the White House and the US Department of Commerce's Bureau of Economic Analysis.