Seeking Sustainability – African Park PPPs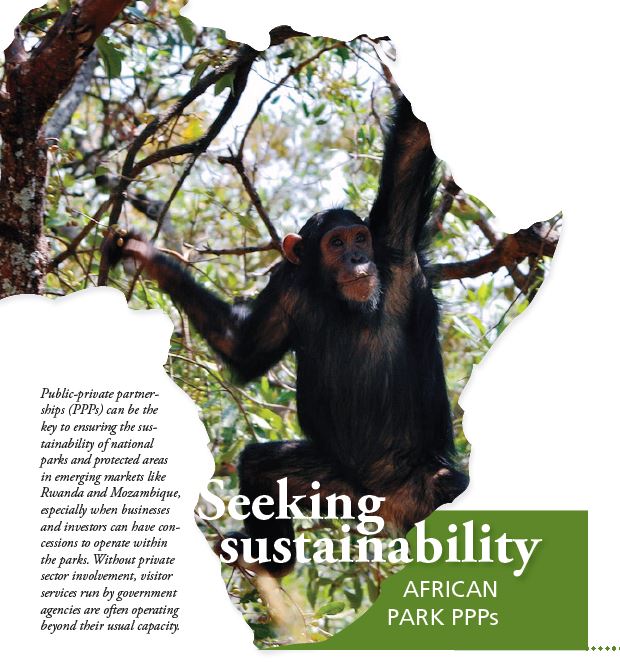 Seeking Sustainability – African Park PPPs
[By Scott Wayne, from Handshake – the International Finance Corporation's Quarterly Journal on Public-Private Partnerships, Issue #10]
Public-private partnerships (PPPs) can be the key to ensuring the sustainability of national parks and protected areas in emerging markets like Rwanda and Mozambique,
especially when businesses and investors can have concessions to operate within the parks. Without private sector involvement, visitor services run by government
agencies are often operating beyond their usual capacity.
As the sky lightens in Nyungwe National Park in southern Rwanda, land cruisers and park rangers bring sleepy visitors to a dirt road at the edge of the forest. After the cool, tropical air awakens the senses, and the piercing screams of the chimps awaken everything else, the Nyungwe chimp tracking experience begins. This heartpounding
experience is novel for most visitors because Nyungwe was founded in 2004, and is one of Africa's newest national parks. With over 1000 square kilometers, it is also Africa's largest protected mountain rain forest.
Tourism is gradually taking hold in the park,thanks to the efforts of the Rwanda Development Board, with the support of USAID. Now, with a recently approved national concessions policy, their efforts are expected to help attract more visitors and increase spending, which in turn increases employment and income opportunities
for local communities and leads to higher standards of living. In the long run, this should provide the park with more resources to ensure that it is protected.
PROGRESS VIA PPP
For the past three years, the USAID-sponsored Nyungwe Nziza Project has been successfully working with the Rwanda Development Board and local communities to help the park realize its potential. But more visitors are needed to make it a fully self-sustaining park, generating opportunities for local communities. Links in the value chain of Nyungwe's tourism experiences are strengthening, but Kigali-based and international tour operators are not yet convinced.
The new concessions policy could make all the difference. As it goes into effect, eco-lodge development sites near the source of the Nile are expected, as well as other ventures, such as restaurants, cafes, and additional tourism service providers. In time, this will expand options for tour operators, visitors, and local communities.
The new concessions policy seeks to achieve the following:
• Raise investment in protected areas via PPPs;
• Streamline proper management and conservation of protected areas through concessions;
• Provide quality visitor/tourist infrastructure, facilities, and services within the protected areas;
• Generate revenues to the government that can be channeled for management and conservation of these protected areas; and
• Promote sustainable tourism that generates employment and reduces poverty.
The policy is also expected to provide a transparent and objective framework for awarding and managing concessions and to facilitate obtaining
support from other government offices, ministries, and agencies.
A MODEL IN MOZAMBIQUE
Two thousand kilometers south-south-east, in southern Mozambique's Maputo Elephant Reserve, private investment for an eco-lodge development is the goal of another ambitious African project. To support its six-phase "Investment Generation Approach" (IGA), an IFC team began working with the government, local community, and investors in 2007 to generate an "anchor," or strategic investment, which could serve as a catalyst for additional investment.
Though the process was interrupted by 2009's economic recession, investor interest returned by 2011. With a more structured investment and concessions program in place, officials signed an agreement for a 35 room eco-lodge in the Reserve. Now that the framework is in place, additional investments are being explored.
But as with most large-scale investments, the path to the Maputo Elephant Reserve was paved with challenges. Some of Mozambique's biggest hurdles were solved in ways that could apply to other parks.
Just like fingerprints, no two parks are exactly alike, and these two African parks demonstrate the variety of ways that concessions can serve the goal of sustainability. It's not as heart-pounding a journey as tracking screaming chimpanzees in the early morning light, but the end result—protection of pristine parkland—has just as much heart.