Successful Domestic Tourism Strategy – Scotland 2011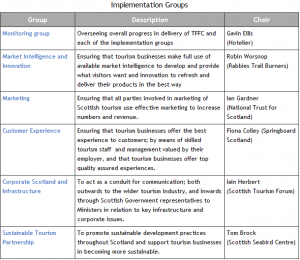 Successful Domestic Tourism Strategy – Scotland 2011
Oxford, UK-based IEWY News just reported that Scotland has seen "a six per cent increase in domestic visitors in the first six months of 2011, compared to the same period in 2010, and a 13 per cent increase in expenditure. VisitScotland also reported its 'Surprise Yourself' campaign generated an additional £89.9 million to Scotland's economy since its launch in March – making it VisitScotland's most successful domestic campaign to date."
13 percent increase in expenditure from a six percent increase in domestic visitors is an impressive ratio, especially given the economic downturn in the UK and Western Europe.
Enterprise Scotland and VisitScotland are aiming to increase expenditures by 50% over 2006 by 2015.
In March 2006 the Scottish Executive published Scottish Tourism: The Next Decade – a Framework for Change (commonly referred to as the Tourism Framework for Change) – a copy of which can be accessed here TFFC Strategy document. Halfway through the 10 year plan, implementation is proving to be successful. For tourism strategists and planners, this strategy is worth reviewing.
One of the main keys to their success has been close cooperation with the private sector and other stakeholders through the following implementation groups: