The Noguchi Museum appoints Kenneth Wayne Deputy Director for Curatorial Affairs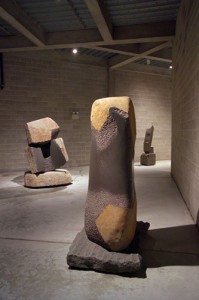 The Noguchi Museum appoints Kenneth Wayne Deputy Director for Curatorial Affairs
[This is a more personal post — a press release about my brother, Ken and am proud of him!]
For Immediate Release—Queens, New York, December 15, 2011 . . .
Jenny Dixon, Director, The Noguchi Museum, today announced that Kenneth Wayne has been named Deputy Director for Curatorial Affairs at The Noguchi Museum. Mr. Wayne, who assumes his post on January 3, 2012, will be the first person to hold this position at the Museum.
Ms. Dixon states, "We are delighted that Kenneth Wayne will be joining The Noguchi
Museum staff. A highly regarded expert in modern sculpture, with extensive museum
experience, he will bring new scholarship on Noguchi and his work to the Museum's exhibitions, publications, and programming. I know that the Board of Trustees and staff join me in welcoming Kenneth to the Museum."
Mr. Wayne added, "I am thrilled to be joining The Noguchi Museum, one of New York
City's great cultural treasures. I look forward to working with my new colleagues, and to
deepening our understanding of Noguchi, his work, and its place in the history of modern art and society. I am proud to join an institution that pioneered the development of Long Island City into one of New York's most exciting arts destinations."
Mr. Wayne's appointment comes at a time when the Museum, long celebrated for its
comprehensive collection of Noguchi's work and its exquisite sculpture garden and galleries, has firmly established active programs of temporary exhibitions and public programs. These bring a variety of aesthetic and intellectual viewpoints to the Museum, creating engaging dialogues with Noguchi's art and bringing new perspectives to the cultural context in which his work developed, as well as to his influences on contemporary practice. With the recent publication of the first installment of the Noguchi catalogue raisonné, the Museum is also revitalizing its scholarly focus.
Kenneth Wayne has an accomplished career in both the academic and museum
communities. Since 2010 he has consulted for organizations ranging from Christie's Paris to the Man Ray Trust and Il Museo di Arte Moderna e Contemporanea di Trento e Rovereto, Italy, among others. Prior to this, he was chief curator at the Heckscher Museum of Art, in Huntington, New York (2005–2010); curator of modern art at the Albright-Knox Art Gallery, in Buffalo, New York (1999–2005); the Joan Whitney Payson Curator at the Portland Museum of Art, in Maine (1995–1999); and the arts director at the University of Maryland, College Park (1994–1995). He has curated or co-curated dozens of successful exhibitions on a range of modern and contemporary art and artists, garnering important administrative experience in the process. Mr. Wayne is a prolific author whose scholarship has appeared in numerous exhibition catalogues and journals and has been translated into French, Spanish, German, and Italian. In addition, he
has lectured at such institutions as the Henry Moore Institute, in Leeds, England, and the Royal Academy of Art, in London. Mr. Wayne currently serves on the board of the Alexander Archipenko Catalogue Raisonné Project and is a member of the Association of Art Museum Curators, where he sits on the website committee. From 2000 to 2005, he was a trustee of Somerset House Art History Foundation, in London and New York. The recipient of a number of honors and awards, he received a Ph.D. in art history from Stanford University, an M.A. in modern art from the Courtauld Institute of Art, University of London, and a B.A. in art history from the University of California, Berkeley.
The Noguchi Museum
The Noguchi Museum—chartered as The Isamu Noguchi Foundation and Garden
Museum—was founded and designed by Japanese-American artist Isamu Noguchi (1904–1988), one of the most critically acclaimed sculptors of the twentieth century. Housed in a converted 1920s industrial building in Long Island City, Queens, the Museum is itself considered to be one of the artist's greatest achievements.
The Museum's two-story facility houses ten galleries and a widely celebrated outdoor
sculpture garden. As a whole, it provides an intimate, reflective space in which to experience the range of Noguchi's sculptures in stone, metal, wood, and clay, as well as models for public projects and gardens, dance sets, and his Akari Light Sculptures. It manages not only the world's largest and most extensive collection of Noguchi's work, but also his complete archives. The galleries present both an ongoing installation of objects from the collection and special exhibitions that offer a rich, contextualized view of the artist's practice and career.
An international center for the study and interpretation of Noguchi's work, the Museum
serves the international community by organizing traveling exhibitions and loaning art to other institutions. It additionally offers scholars access to its archives, including the artist's records, correspondence, manuscripts, and photographs. In November 2011, the Museum published the first installment of a catalogue raisonné of Noguchi's oeuvre.
For additional public information: www.noguchi.org.